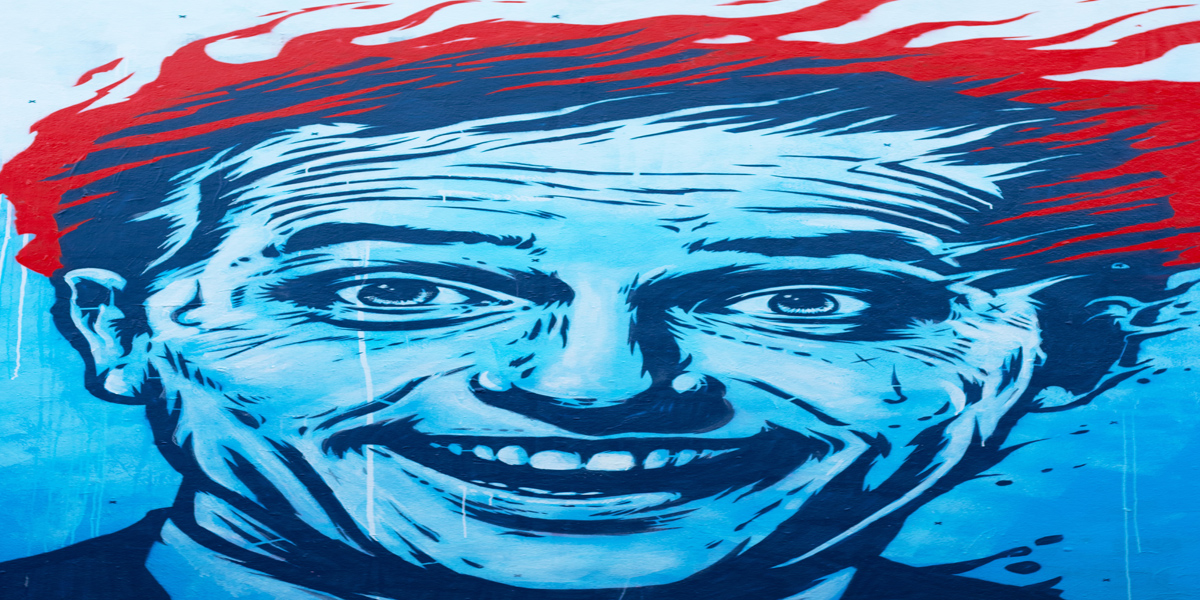 Virtual Insanity: why we now need to become outstanding virtual communicators
"Futures made of virtual insanity now
Always seem to, be governed by this love we have
For useless, twisting, our new technology
Oh, now there is no sound for we all live underground"
I went to school with Jay Kay. He was the year above me.  It was he inspired me to become an actor. He played the lead in the school production of "Me and My Girl" and he literally shone.  It was obvious to everyone he was going to be a star.  We didn't know he would turn out to be a prophet.  His lyrics from 1996 about how technology will have an increasing control over humanity have rarely felt more prescient than now.
It really isn't just what you say but…..
This weekend, in what may prove to be my last piece of social contact for a while, I was at a neighbours for a house-warming and he told me how an American company called HireVue are using artificial intelligence to assist Unilever and other companies with their interviews.  The interviewee uses their phone or laptop to answer a set of predetermined questions, and the AI analyses their voice modulation, body language, eye-contact and more to determine if the person is a good candidate for the job.  This enables them to get through lots more candidates and to sift through the ones they don't want quicker.  Is it just me or is that quite scary?!  Where will it end I wonder?
At Speak The Speech, we have been mindful of social distancing for a few days now, and as such, we have been offering video coaching instead of our more traditional face-to-face training sessions.  Whilst promoting this initiative, I reflected on how current events could affect the world of business communication – not just in the short term but in the months and years ahead.
Clearly for the foreseeable future we will be conducting all our meetings virtually.  I know we have been moving in this direction anyway but this pandemic is only going to accelerate the process.  Even when all this ends, the business world will never be the same again.  Companies are going to have to become more virtual because they can't assume we will always be OK to travel and they won't be able to risk another disaster like the one that's costing them millions right now.  We will all need to adapt – and quickly. In other words, communication as we know it is going to change completely.
Presence without being present
Business has always been about relationships – building trust, rapport and engagement with a client or stakeholder.  How will all that work in a purely virtual world? How do we have effective conversations via a computer screen?  How do we build relationships on Zoom or Skype? How can we pass that AI interview?!
We have always coached people on how to have gravitas when they speak; how to fill a room with their presence; the importance of great connection and of making a good first impression.  How do you have gravitas on a video-conference?  How can you sound convincing when talking to a screen that so often sucks the life and the energy from the speaker?  How do you have great connection with 20 different people in 20 different rooms all seeing you through a camera?
Think about selling.  We all know that selling has always been about more than just the product. It has also been about getting in front of a customer, learning about them, talking to them, finding out about their needs. It has then been about influencing them, persuading them – using your speaking style and personality, your passion for your subject or product, your conviction and belief.  How often does that make the difference between a successful pitch and an unsuccessful one?  What happens when you can't get in front of the customer anymore?  Will businesses start making bid decisions based purely on written submissions?  We are going to have to find different ways to be unique, to stand out.
Crafting exceptional content across the ether
I see a future world where the ones who are more likely to gain a competitive advantage will be the ones who are able to adapt quickest to video communications.  This is where clarity and succinctness of message will be key.  Businesses are going to need to learn new skills and new ways of being effective. It's got to be quicker, more purposeful, much more structured.  It's got to have more intent.  The key messages will need to be that much more pronounced.  They will need to stand out in bold and flashing neon! It may no longer be possible to hold a room's attention for long – there are too many distractions online.  An audience can mute you, click on Twitter without you knowing, check emails…
It's not all doom and gloom!
Of course every cloud and all that and this new world could bring many advantages.  More virtual communication will mean less travel and a safer, cleaner planet for our children.  If we get it right, meetings can be quicker, easier to organise and attend.  We should become more productive.  BUT if we are going to lose the intimacy that face-to-face communication brings then we have to be very careful not to lose the human element.  We can't forget the importance of two-way conversations, of listening, of rapport-building.  We must keep our personalities!!
Sadly, the UK is still in the embryonic phase of this worldwide upheaval and most of us are understandably in pure survival mode.  The safety of our loved ones is the only priority right now and we all need to get through this with our health and sanity intact.  There are many challenges ahead and improving virtual communication will be just one of them, but I can't help thinking, when everything has calmed down a bit, it will be a vital one.
You know where to come if you want help in meeting it. 😉